Olympic champion - Artistic gymnast - United States

Born

:

1997, Columbus (Ohio, US)
Annual

:

$316,000.00

Monthly

:

$26,333.33

Weekly

:

$6,076.92

Daily

:

$1,215.38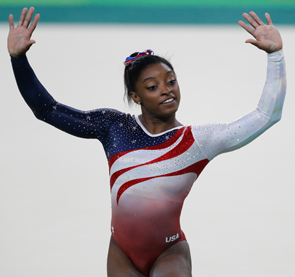 ---
- Before she even stepped into the Olympics she had already earned around $2 million.
- At the Rio Olympics (2016) he won four gold and one bronze medals. There's a cash prize for every Olympic medal an athlete wins — $25,000 for gold, $15,000 for silver and $10,000 for bronze. (USA Today) So at the Rio Olympics she won $ 110000.
- In 2018 she also won 4 gold medals, 1 silver and 1 bronze medal at World Artistic Gymnastics Championships plus some important brand endorsement deals. Her prize money from world championships is considerably lower, even though she's racked up plenty of medals there over the past several years. According to a 2017 BBC study, the women's all-around gymnastics champion takes home a prize of £4,053, which is about $4,896 in US dollars.
Sources
Update: 2019-8
---